Russia's sole bridge to Crimea has reopened to traffic partially, hours after a major explosion caused portions of it to collapse.
Limited road traffic resumed around 10 hours after the incident, and the Russian Ministry of Transport approved the return of rail service. Authorities are already permitting automobiles and coaches to open to traffic, and all vehicles must pass thorough security checks.
Local Crimean officials have planned boat services between mainland Russia and the peninsula for huge vans or heavy vehicles that are unable to use partly restored bridges.
According to police, three persons were killed in an explosion on Europe's longest bridge. According to Russian officials, the victim was in a neighboring automobile when a truck detonated. The train's seven-car tanker, also heading for Crimea, caught fire.
The railway part of the bridge, where the tanker caught fire, has reopened, according to reports. Late Saturday (October 8), the Russian Foreign Ministry posted a video showing the bridge appeared to be operational again.
RUSSIAN DIVERS WILL ASSESS THE DAMAGE.
According to Reuters, Russian divers will investigate the damage caused by a huge explosion on Russia's road and railway crossing to Crimea on Sunday.
According to the Russian news agency, Deputy Prime Minister Marat Khusnullin, the divers will begin work at 6 a.m. (0300 GMT) and are scheduled to finish a more extensive check above the waterline by the end of the day Investigation.
"The situation is manageable — unpleasant, but not deadly," Russia's designated governor of Crimea, Sergei Aksyonov, told reporters, adding that the event triggered a People desire vengeance.
Following a large explosion on the Crimea Bridge on Saturday, Russian President Vladimir Putin has ordered a criminal probe and heightened security.
According to accounts, a vehicle on the bridge burst, damaging and toppling a portion of the road bridge, while gasoline tankers on the railway bridge caught fire.
WHAT IS THE SIGNIFICANCE OF BRIDGES?
The Crimea Bridge, often known as the Kerch Strait Bridge, debuted in 2018 and spans 19 kilometres. It is strategically significant and serves as a vital supply line for Russia's invasion of Ukraine.
According to Reuters, the Crimea Bridge is a vital transportation hub for Russian soldiers battling in southern Ukraine.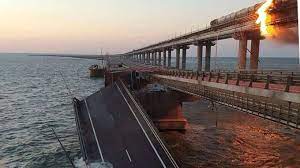 According to Sergey Aksyonov, the Crimean peninsula possesses a month's worth of gasoline and more than two months' worth of food supplies. Russia's Defense Ministry stated that current land and sea routes could "sufficiently resupply" its forces in southern Ukraine.
Mykhailo Podolyak, an adviser to Ukrainian President Volodymyr Zelensky, did not openly accuse Ukraine of being involved for the Crimea Bridge explosion, but did tweet that the act is merely a "start."
"Everything unlawful has to be destroyed, everything stolen has to be restored to Ukraine, and everything occupied by Russia has to be ejected," Podoljak stated.
The Ukrainian Defense Ministry connected the Crimea bridge explosion to the April sinking of the Russian guided-missile ship Moskva.
"Two renowned symbols of Russian power have fallen in Crimea, Ukraine," Ukraine's defence ministry tweeted. "What comes next?"
"The reaction of the administration in Kyiv to the destruction of civilian infrastructure attests to its terrorist nature," the Russian foreign ministry warned.
Russia annexed Crimea from Ukraine in 2014. The 19-kilometer bridge linking Russia's occupied area of Crimea to Russia's mainland cost 2.7 billion pounds and was revealed four years later by Russian President Vladimir Putin.
The Russian media dubbed the Crimea Bridge the "Project of the Century." Russian officials previously maintained that it was well-defended against attacks from the air, land, and sea.
According to BBC correspondents Hugo Bachega and Patrick Jackson, the importance and symbolism of seeing the bridge set ablaze by President Vladimir Putin cannot be emphasized.
Russia utilizes the bridge to carry military equipment, ammunition, and soldiers from Russia to southern Ukrainian battlefields.
As a result, Ukrainian officials claim it is a valid target as they threaten to reclaim Crimea.
Russia has a substantial force in Crimea, and any invasion on the peninsula would be viewed as another another humiliation for the Kremlin.
Ukrainians, in particular, despise the bridge. A day after Russian President Vladimir Putin turned 70; Ukrainian social media was flooded with tweets praising the sight of the Crimean Bridge on fire.
On October 8, Russia's National Counter-Terrorism Committee stated: "An explosion happened in a freight vehicle on the highway part of the Crimea Bridge on the Taman Peninsula today at 06:07 Moscow time (03:07 GMT). On the Rimean Peninsula, seven tankers on a train caught fire."
"Two roadway portions of the bridge fell," according to the statement.
Crimea parliament speaker Vladimir Konstantinov blamed the explosion on "Ukrainian saboteurs," claiming "they finally succeeded to place their murderous hands on the Crimean Bridge."
According to Kremlin spokesperson Dmitry Peskov, Russian President Vladimir Putin was briefed on the bridge's "emergency" and ordered the government to initiate a criminal probe.
The bridge is located more than 100 kilometres from Ukrainian territory. According to an explosives specialist, the bridge fire may not have been sparked by a missile.
"There was no obvious blast damage or debris on the road," he claimed, implying that no air-delivered weapons were employed. However, he believes it was a "well-planned strike." "I assume explosives on the road bridge and on the train car's floor were detonated practically simultaneously using coded radio signals."
In this fight, Kyiv maintained its counter-offensive momentum. Large swaths of terrain have been retained by Ukrainian soldiers, forcing Russian troops to surrender long-held positions.
Amid catastrophic losses, Moscow has launched a disorderly military mobilization, resulting in rare anti-war rallies in Russia and an exodus of draft-age males.
Hosts and studio guests on Russian TV discussion programs have grown more negative about the situation.
Kyiv authorities have asked that Russian soldiers vacate the Black Sea peninsula and Ukrainian land taken by Russian forces in Putin's February incursion.
It is unclear whether the explosion was intentional, but the destruction to such a high-profile facility comes at a time when Russia has lost multiple conflicts and might undermine the Kremlin's promises that the conflict would proceed as planned.
If the strike was carried out by Ukraine, it would not be the first time the country had targeted Crimea. Ukraine claimed credit for a series of airstrikes in Crimea last month, including one on Russia's Saki military installation.