POOL DECKING: The design of pool decking and patios is an essential component in the process of creating a wonderful outdoor environment. Properly designed pool decks and patios may considerably improve the visual appeal as well as the utility of your property. Choosing the appropriate materials for your pool deck and patio is of the utmost importance, regardless of whether you want to create a peaceful haven where you can unwind or a vibrant entertainment area where people can get together.
In this extensive guide, we will dig into a wide variety of materials, styles, and concerns to assist you in making selections that are educated and that are in line with your vision. Come along with us as we delve into the realm of designing pool decks and patios.
Table of Contents
The Value of Patios and Decks Near Swimming Pools
Improving the Aesthetics of Your Outdoor Paradise
Your backyard has the potential to be turned into a tranquil haven if you have a pool deck and patio that are both well constructed. These spaces act as extensions of your living space and provide opportunity for you to rest, enjoy recreational activities, and be entertained. You may create a dynamic atmosphere that is conducive to a variety of activities and states of mind by fusing indoor comfort with the beauties of the outdoors in a way that is seamless.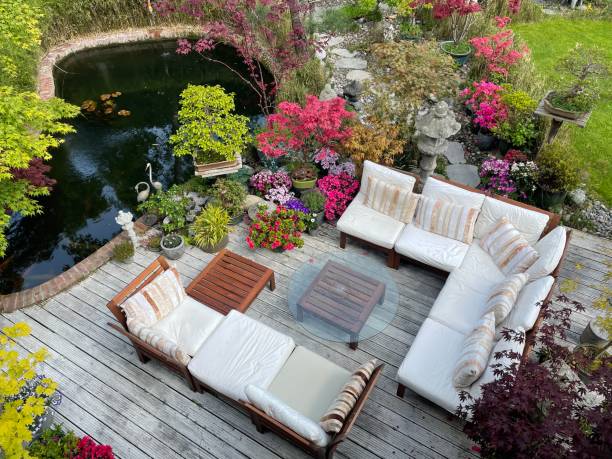 How to Select the Appropriate Materials
A Vast Number of Alternatives
There is a wide variety of material options available to you when you are designing the pool deck and patio for your home. Each material has its own set of qualities, such as how long it will last, how attractive it will seem, and how much upkeep it will demand. Let's look at some of the most common choices:
Elegance derived from natural stone
The Everlasting Charm
The use of natural stone, particularly travertine, limestone, and sandstone, may provide a space an air of classic sophistication. These stones give your outdoor space an air of sophistication thanks to the rich textures they have and the earthy tones they come in. They are not only pleasant to look at but also pleasant to walk on, making them an excellent option for use as pool decking because of these qualities.
The Traditional Charm of Pavers
Versatility in terms of the aesthetics
Pavers enable the creation of a broad variety of complicated patterns and motifs due to their extensive range of design options. These interlocking modules are available in a wide range of hues, contours, and measurements, which enables you to create a one-of-a-kind appearance that is in keeping with the design of your house.
The Uniquely Modern Appeal of Concrete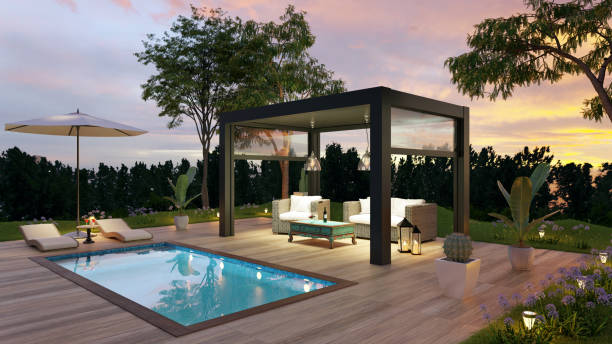 Sophistication in the Modern Age
Concrete is a multipurpose material that has moved beyond its origins as a purely functional substance. The appearance of natural stone or pavers may be replicated using stamped and stained concrete, which also provides durability and a surface that is smooth and easily adjustable.
Things to Take Into Account
Using Available Information to Make Decisions
In order to guarantee that the design of pool decking is consistent and effective, selecting the correct materials requires taking into consideration a number of different criteria. Among the most important characteristics are the following:
Climate-Related Things to Consider
Accommodating Oneself to the Circumstances
The climate in your area should be taken into consideration while choosing the materials to use. The materials you use should have the ability to tolerate shifts in temperature, as well as moisture and any other environmental conditions that are typical in your region.
To Begin With, Safety In Pool Decking
The Importance of Slip-Resistance
Because there is water present, ensuring everyone's safety is the first priority. Choose materials that give surfaces that are resistant to slipping in order to reduce the risk of accidents and create an atmosphere free from anxiety.
It Is Important to Maintain
Ease of Maintenance
Take into consideration the amount of upkeep that is necessary for the various materials. While some are completely maintenance-free, certain ones might need to be cleaned or sealed on a regular basis.
Considering Functionality in Design
Combining Aesthetics and Operation
The layout of your pool deck and patio should take into consideration more than just aesthetics but also the activities that will take place there. The following are some ways in which you may successfully combine aesthetics and practicality:
Putting Your Space in Zones
Areas That Have Been Clearly Defined
Create distinct areas for different kinds of outdoor pursuits in the space you have available. To get the most out of your pool area's functionality, designate different spaces for dining, relaxing, and other activities.
The Furnishings and Complementary Items
Including Some of Your Own Touches
Choose furniture and accessories that not only cater to your needs but also compliment the design you have chosen. The addition of cosy seats, shade structures, and elements of decoration can help to make the atmosphere more enjoyable overall.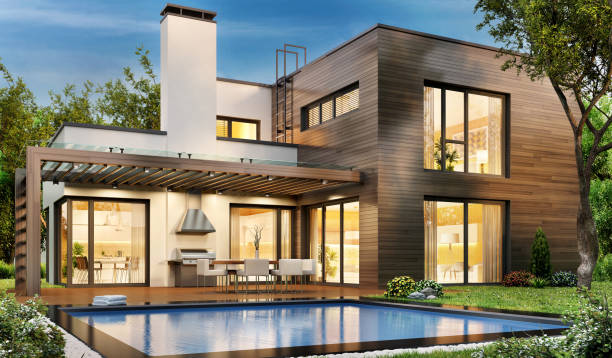 The final word About Pool Decking
In conclusion, creating pool decks and patios is an art that requires a profound study of materials, as well as creativity and pragmatism. You may build an engaging outdoor environment that adds value to your lifestyle by giving important consideration to a variety of elements, including the climate, safety, and upkeep of the space. The appropriate selection of materials will determine the character of your outdoor haven, whether you lean towards the timelessness of natural stone, the adaptability of pavers, or the contemporary allure of concrete.
FAQs Of Pool Decking
How can I choose between pavers and natural stone for the pool deck of my backyard oasis?
Your aesthetic choices and available funds will determine which option, pavers or natural stone, is best for you. Pavers give adaptability and design possibilities, while natural stone has an appearance that is both sumptuous and timelessly elegant.
Are there any solutions for pool decking that are better for the environment?
Without a doubt! For pool decks, eco-friendly material options include recovered wood and bamboo as well as recycled composite decking and composite decking made from bamboo.
Q3: Is it possible to install a fire feature on the patio that is adjacent to my pool?
Without a doubt! Your poolside patio may be transformed into an enticing venue for nighttime gatherings with the addition of a fire pit or fireplace, which will bring warmth and atmosphere to the area.
How much of a price differential may be expected to exist between concrete and natural stone, roughly speaking?
Concrete is typically more cost-effective than natural stone in terms of construction materials. However, bear in mind that pricing might differ depending on a variety of criteria, including the quality of the material and the degree of difficulty of the installation.
How can I reduce the risk of falling on the deck surrounding my pool?
Consider utilising materials that have textured surfaces, installing rugs or mats in high-traffic areas, and cleaning up any water spills as quickly as possible to increase the slip resistance of the surface.